The place where our customers send their friends!
Welcome to the Only American Video Tape Store for rare German Movies and Old ZDF volksmusik shows.
Please note: All video tapes are in the American NTSC VHS video format
and will play on all VCR's in North America. We are closing out all of our VHS inventory. This will be your last chance to obtain these beautiful ZDF music videos and hundreds of classic German movies and heimatfilme. Due to the limited demand in the USA, most of these movies will unfortunately never be available on DVD in America.
Once our videos are gone, they're gone!!!
We have drastically reduced the prices on over 2000 video titles closeout. Make sure to buy these classics while supply lasts.
On all VHS clouseout prices we will send you a new or previously viewed tape.
CLOSEOUT!!!!!
BUY NOW!!!
Any 10 videos for only $49.95
plus $19 s/h
while supplies last
Multi-system VCR
$649.00 plus $20.00 shipping and handling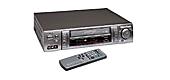 Click here for larger picture.
Do you have a lot of videos from other countries that won't play on your American VCR? We can transfer the tapes from the European format to the American format. We also sell a VCR that will play and record in all video formats.
This VCR makes all your recordings look and sound spectacular whether they're in NTSC, PAL, or SECAM international signal formats.
This multisystem VCR works with any American television,
even the big screens, and is very easy to operate.
Just put in any VHS tape from anywhere in the world
and watch it on your regular TV.
Features
4-Head Hi-Fi Stereo
Multi System Compatible NTSC/PAL/SECAM
(MESECAM)/PAL-M/PAL-N)
Multi Digital Converter System
5-Speed Playback (NTSC/PAL-M, SP/LP/EP, PAL/SECAM/MESECAM/PAL-N, SP/LP)
4-Speed Recording (NTSC/PAL-M, SP/EP, PAL/SECAM/MESECAM/PAL-N, SP/LP)
181-Channel Synthesizer Tuner Coverage CATV Channels
Jog Shuttle Control
Front Audio/Video Input Terminals
Auto Head Cleaning
Digital Auto Tracking
Manufactured by AIWA
Headphone Jack with Volume Control
Automatic 4-Head Cleaning System
Stable Regulated Auto-Voltage Power Supply
(100-240V Usable)
Quick Timer Recording
6-Event/1-Month Timer
Full Auto Function
On-Screen Display (English/Spanish/French/German/Italian)
Remote Control
Specifications
Power Source: 120V
Dimensions (W x H x D): 17" x 3-7/8" x 14-1/4"
Weight: 11.7 lbs.
Channel Coverage: M/M-VHF: 2-13 Ch; UHF: 14-69 Ch
CATV: 5A, A-1-A-5, A-W, W+1-W+84 Ch TV Broadcasting System: NTSC-M/M
Video System:
PAL/SECAM/MESECAM Color Signal 625 Lines, 50 Fields
NTSC 3.58/NTSC 4.43 Color Signal: 525 Lines,
$649.00 plus $20.00 shipping and handling
How else may I place an order?
Click on the envelope below to send e-mail
to the German Language Video Center!

Not responsible for typographical errors.
Video run times are approximate.
Prices and availability subject to change without notice.
Send comments regarding contents of this page to
glvc@indy.net





Member VSDA since 1985.

Last modified: Friday, October 21, 2016 2:18 PM
German Language Video Center© 1997/2016
Entire Website copyrighted 1997, 1998, 1999, 2000, 2001, 2002, 2003, 2004, 2005. 2006, 2007, 2008, 2009, 2010, 2011, 2012, 2013, 2014, 2015, 2016
No reproduction or download allowed for commercial purposes without written permission.

GLVC 2016©.