The place where our customers send their friends!
Welcome to the Only American Video Tape Store for rare German Movies and Old ZDF volksmusik shows.
Please note: All video tapes are in the American NTSC VHS video format
and will play on all VCR's in North America. We are closing out all of our VHS inventory. This will be your last chance to obtain these beautiful ZDF music videos and hundreds of classic German movies and heimatfilme. Due to the limited demand in the USA, most of these movies will unfortunately never be available on DVD in America.
Once our videos are gone, they're gone!!!
We have drastically reduced the prices on over 2000 video titles closeout. Make sure to buy these classics while supply lasts.
On all VHS clouseout prices we will send you a new or previously viewed tape.
CLOSEOUT!!!!!
BUY NOW!!!
Any 10 videos for only $49.95
plus $19 s/h
while supplies last
The swift collapse of the Third Reich in the spring of 1945 brought, with the surrender, mountains of films and documents covering the entire period of the Nazi regime. Perhaps no other period in history is as well documented. Many of these films are now historical documents of a time when madness and hate overran mankind. Some films made in those years do not reflect current official views of Germany, its people, or other nations and should be used only with extreme parental discretion and guidance. Almost 55 years have passed since the terrible holocaust. The memories and the consequences are still with us today. HOW...WHY... could such a system have arisen and flourished? How many times have the questions been asked? How many answers have been offered? The voices on these video tapes are the voices of history... perhaps those who listen today can help answer the questions posed by these terrible years!
---
All newsreels have been transferred from original 35 millimeter and 16 millimeter German prints and have been accurately translated and electronically subtitled in English.
Volume 65


(JANUARY, 1944): ca. 40 min. - Newsreel 697 (12 January 1944), An exhibition boxing match is put on for German workers and their "foreign helpers". Darnand and Deat at an anti-Bolshevist rally in Paris. Serbian military recruits train to fight partisans. In Bosnia, horses, boats, motorcycles, and tanks are used against partisans, a partisan band is captured. On the Arctic Front, supplies move by truck, sled, and cable lift, glimpse of tent interior, nurses, soldiers given cod-liver oil, General Dietl. In the Nevel area, supplies and reinforcements bound for the front, eastern-territory tractor, Panther tanks, German infantrymen, German howitzers. In the Kirovograd area, German infantry and assault guns, Soviet defectors and prisoners interrogated, destroyed Soviet tanks, tank soldiers decorated, German rockets. Lieutenant Commander Gysae's U-boat in the Indian Ocean, Repair work above and below water while sailing around the Cape of Good Hope, provisions, torpedoes, and oil transferred from supply U-boat, eating and bathing, a commercial freighter is torpedoed. 20 min. Newsreel 698 (20 January 1944), Recznizek directs his opera Donna Diana. In the Olympic Ice Stadium in Garmisch-Partenkirchen, teams from Rittersee and Vienna compete in a preliminary match for the German ice hockey championship. Trapeze artists and the acrobat Sarasani. Work and break time in a German defense plant - the film stresses that "the enemy is listening". Soldiers painting in their free time. Brigadier General Schulz visits Nuremberg, where District Party Director Holz greets him and he visits his parents. In the Aegean, on Samos, wine sampling and "hospitable" population, on the southern tip of Chalcidice, soldiers visit monks high in the mountains. At the Nikopol bridgehead, German barbed wire and mines, German infantry, assault guns, and flak oppose Soviet tanks, Soviet prisoners. An extended sequence about combat with Allied bombers over Germany on January 11, German flak and fighters oppose American bombers, wreckage of Allied planes, Allied prisoners, a fighter pilot tells how he battle American bombers, fighter crews report to their commander after the engagement. 20 min.
Volume 66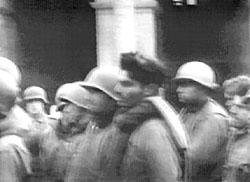 (FEBRUARY, 1944): ca. 35 min. - Newsreel 702 (16 February 1944), Artist Paul Hermann at work. Skiing championship of the Air Command at Zell am See, including slalom, cross-country, and downhill. The Langemarck Program in Heidelberg, where soldiers on leave and workers can earn a high-school degree. Female members of the Reich Labor Service shown working on a streetcar in a military hospital, and in a defense plant. Goebbels decorates Berliners who distinguished themselves in the Berlin civil defense against bombings, including District Administrative Director Schach and Police President Helldorf. Ley gives the Fritz Schott Prize to eight researchers and inventors. Doenitz speaks to U-boat crews at a German naval base and awards medals. In Italy, in the Nettuno area, an artillery duel, in Aprilia, German artillery, Anglo-American prisoners march into Rome. In the east, soldiers leave the front line for rest and relaxation, they see movies and receive gifts. In Vitebsk, supplies head for the front, wounded are brought to the rear, and the front headquarters, a movie theater, and the Panzerfaust publishing house are shown. In the east, a motorcycle messenger drives through snow to alert a battle group in a dugout, which is being sent to the front line, at the edge of a village, Soviet tanks are fought with flak guns. 17 min. Newsreel 703 (23 February 1944), The biochemist Adolf Butenandt is shown at work. At the University of Munich, Seyss-Inquart is inaugurated as the new president of the German Academy and speaks about the Academy's mission of "spreading the German spirit throughout the World", Goebbels gives him Hitler's certificate of appointment. The German Film Ballet trains and rehearses. On Tegern Lake, a convalescent home for bomber pilots who were imprisoned in England and Canada, they meet General Peltz and other officers, talk abut their battles, and play in the snow. A German destroyer protects French fishing cutters by repelling an enemy bomber with flak. On the South Italian Front, supplies move by land and sea, including by donkey, Allied ground-attack planes bomb a valley, the Abbey of Monte Cassino before and after Allied bombing, Allied artillery bombards the abbey after aerial bombing, the Monte Cassino abbot goes to Rome, wounded are carried from the ruins of Castle Gandolfo the Pope's summer residence after Allied bombing. As German troops withdraw on the Eastern Front, they destroy everything left behind, and a rearguard unit battles a Soviet spearhead, Panther tanks are shown. In the Kirovograd area, a tank division, infantry, artillery, rockets, and Soviet prisoners. At Kerch, German and Rumanian Troops battle the Soviet bridgehead, artillery, infantry, street fighting, Stukas. 18 min.
Volume 67


(MARCH, 1944): ca. 39 min. - Newsreel 705 (8 March 1944), Eye specialist Loehlein examining a patient and lecturing. Wrestlers from Germany, Czechoslovakia, and Norway compete in a tournament in Berlin - the Germans win. In Katowice, District Party Director Bracht presents naturalization documents to ethnic Germans returning from the Soviet Union. In Brussels, Leon Degrelle speaks, explaining how the German combat team at Cherkassy was freed, assault troops from Cherkassy meet Goebbels. Western defenses, tanks, infantry, and spotlights, Rommel inspects defenses, cannon are loaded. German withdrawals through Narva, local civilians join retreat, artillery protects rear guard. Near a forward post on the banks of the Narva River, German rear guard counterattacks, German tanks, Infantry, and dive-bombers, village and woods cleared of enemy, soviet prisoners and destroyed equipment. Beachhead at Nettuno, Allied equipment left behind, wounded treated, Allied bombers against German fighters and flak, German paratroops in Norwegian coast carrying soldiers bound for the front spots American bombers headed toward Germany, German fighters take off to fight an Allied air offensive that the film says lasted six days, aerial shots of German fighters in action and American bombers being shot down, destroyed bombers on the ground. 19 min. Newsreel 707 (22 march 1944), the poet Borries von Muenchhausen at his castle in Altenburg. On the Mediterranean coast, a diver uses oxygen apparatus to visit a ship wreck. Five years of Slovakian "independence". Doctor Tiso enters Pressburg in 1939, industry and military. Marshal Badoglio at the American headquarters in Southern Italy. Leon Degrelle at a rally in Paris,, French Waffen-SS volunteers. In Saarbruecken, exchange wounded soldiers and civilian internees return from America. On the radio program Blinkfeuer Heimat, relatives send greetings to German naval personnel stationed overseas and a song is sung (synchronous sound). The Goliath, a remote-controlled miniature tank, in an exercise against a captured enemy tank. Supplies for the Eastern Front carried on trains and unloaded from truck by Estonian volunteers, a frozen Lake Pskov is shown. On the Narva Front, a captive balloon is released, a Soviet attack using tanks and low-flying aircraft is repulsed by German flak, tanks, assault guns, and riflemen, aided by Estonian volunteers. Repulsing enemy bombers over the sea and coasts, fighter pilots on the coast and in occupied areas scramble, aerial shots of bombers being shot down, ace fighter pilot Major Baer, shot-down bombers on ground, shots from English newsreel showing damage to bombers. Enemy bombers are combated in the Berlin area, fighter destroys a loose barrage balloon, division command post issues an air-raid alarm, people take shelter, fire-department brigades and auxiliary services take their positions, flak, fighters, and heavy fighters shoot bombers (division command-post announcements use synchronous sound). 20 min.
Volume 68


(MARCH/APRIL, 1944): ca. 36 min. - Newsreel 708 (29 March 1944), The chemist and industrialist Professor Krauch in a laboratory that produces synthetic fiber. Women gymnasts from Berlin and Dresden compete. At the Schiller Theater, Heinrich George talks to his co-workers about resuscitating the theater after air attacks (synchronous sound), excerpts from several scenes of a production of Urfaust at the theater are shown (synchronous sound). Goebbels greets a delegation of Cassino veterans, a comic master-of-ceremonies introduces them in a theater (synchronous sound), and one of them talks to a table of soldiers about playing chess in a tent while under attack (synchronous sound). German troops arrive in Budapest. U-boats in torpedo-shooting training exercises, used exercise torpedoes brought into workshop, refilled, and returned to U-boats. On the Finnish Front, positions dug in snow, snowplow truck, women bring goods for the soldiers and drink coffee with them, relief for support base. On the Eastern Front, Field Marshal Busch celebrates his fortieth year in the military, in the Pripet Marshes, ski riflemen share cigarettes, drink from a flare casing, reconnoiter a Soviet base, and repulse a Soviet attack with the aid of mortars and Stukas. Cassino, German positions in ruins of buildings, Kesselring and Major General Heidrich, bombs fall from enemy fighter-bombers, view into valley, German artillery observer, rockets, and paratroopers in land warfare, shots from American newsreel of Cassino street battles. 18 min. Newsreel 709 (5 April 1944), Richard Scheibe sculpts, using clay over wire skeletons. At a bicycling festival in Singen on Lake Constance, a team of six girls appears and a cycling champion performs stunts. A trapeze artist at a circus. Children at a "Sending children to the Country" home in Garmisch-Partenkirchen wake up, go to class, learn crafts, and play in the snow. Hitler Youth members ceremonially enter the Reich Labor Service. Ski training at a Waffen-SS mountain school in the Alps. Colonel Trautloft speaks to pilots who have volunteered for combat duty in home air defense (synchronous sound). Night fighters from the "Wild Sow" land at their home field and report to the wing commander. German withdrawals on the southern part of the Eastern Front, trucks struggle through mud, a telephone section in action, rail and factories, including those in Nikolayev, are blown up, war material is transported over the Bug while enemy bombers are repelled by flak. Cassino, American infantry march from Salerno beachhead to Cassino Front, Americans and English bomb city and Monastery, German paratroopers fight in ruins of Cassino, Major General Heidrich, German assault guns, captured New Zealanders. 18 min.
Volume 69


(APRIL, 1944): ca. 40 min. - Newsreel 711 (19 April 1944), Hans Pfitzner conducts his music. In Berlin, horses race for the Easter Prize in Karlshorst. In a radio studio, Doctor Rau reads a Goebbels editorial from Das Reich (synchronous sound). In the Ruhr district, boys participate in the mining activities in the Wartime Vocational Competition. In the Karelian woods, mountain infantrymen make cradles for soldier-fathers, one soldier brings his cradle home to his baby when he goes on leave. Cassino, ruins of Monte Cassino monastery, craters in front of Cassino, German paratroopers and flak fight enemy artillery and tanks - knocked-out tanks shown, enemy smoke grenades, German machine guns. On the Crimean Front, Gigant airplanes are loaded with men and equipment and fly to the Crimean peninsula, meeting a formation of JU-52s on the way, a naval convoy brings supplies to the peninsula, fighting a Soviet bomber attack on a harbor city. Breaking the ring around Kovel, aerial delivery units put on planes and released over Kovel, railroad men at work in Kovel, low-flying Soviet planes, German armored train, tanks, mechanized infantry, Waffen-SS units, and ground-attack aircraft, including JU-87s, Lieutenant Colonel Hoffmann leads this operation, street fighting in suburbs, Soviet prisoners, Major General Gille welcomes liberators, infantrymen gets Knight's Cross. 19 min. Newsreel 712 (26 April 1944), Hitler's birthday is celebrated, Nazi Party celebration on eve of birthday features Beethoven's Eroica Symphony and Goebbels speaking about the Germans' loyalty to Hitler (synchronous sound), the Guard Regiment and Berliners march on Unter den Linden Boulevard, Berliners put up many Nazi flags (much bomb damage shown), dignitaries and citizens sign congratulations list in the Reich Chancellery, many signs and banners in Berlin salute Hitler and declare people's unbroken spirits (much bomb damage shown), Goring, Keitel, Doenitz, Zeitzler, Guderian, and Karl Saur congratulate Hitler as he inspects new anti-tank weapons (Himmler is present). Southern sector of the Eastern Front, German soldiers withdraw, joined by Bessarabian civilians, important facilities left behind are blown up, Germans counterattack on Soviet tank using Tiger tanks and infantry. Somewhere on the Easter Front, the Luftwaffe drops supplies for forward base, German artillery and infantry attack village, after which communication troops lay lines and parachutes from aerial delivery units are folded. Air defense, patrol boat spots incoming bombers, automatic camera mounted in fighter plane, fighter pilots scramble, city residents go to bunkers, fire patrol in factories, hospital patients moved to bunkers, enemy planes followed in a fighter command post (synchronous sound), extensive footage of fighters and heavy fighters shooting down bombers, American prisoners interrogated (in English-synchronous sound), American graves and shot-down bomber, returned German pilot talks about his battle (synchronous sound), Knight's Cross awarded to pilot, Wing Commander Oesau talks to young fighter pilots (synchronous sound), boys working as air-raid helpers, cities come back to life, enemy bombers from Italy approach Southeastern Germany and flak fires on them, a Liberator is forced to land on a German landing strip and its crew emerges, fighters and heavy fighters shoot down bombers over the Alps (synchronous sound talking in fighter command post). 21 min.
Volume 70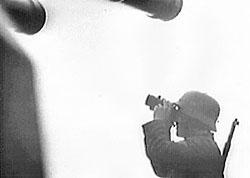 (MAY, 1944): Newsreel 713 (3 May 1944): District Party Director Wagner's funeral in Munich, including procession. General Hube's funeral in Berlin; Goering and Hitler are present. In Spain, General Franco reviews a parade honoring fifth anniversary of the liberation of Barcelona. In Brussels, the SS assault brigade Wallonia returns home; Leon Degrelle presents decorations in the presence of Sepp Dietrich. Final exams for Adolf Hitler School students at a " Castle of the Knightly Order", where Robert Ley and Baldur von Schirach are present; students' boxing and gymnastic skills are displayed. In Munich, Berlin and Munich city soccer teams compete. Training at a Navy blockade weaponry school, including classroom work and laying and clearing mines in field exercises. Sniper training, including target practice and field exercises. Hungarians and Germans on the Easter Front; soldiers bask in sunshine; field exercises. Hungarian troops in the area of Stanislav, including a general; German and Hungarian troops at foot of Carpathians; HE-111s drop fuel for a forward detachment; armored reconnaissance cars and artillery; mechanized infantrymen take a village; Colonel Lippert awards medals to Hungarian soldiers. Western Front preparations: defenses on the Channel coast, including bunkers, anti-tank ditches, and other obstacles; floodgates in Flanders and Holland opened; infantrymen march; Rundstedt reviews a Waffen-SS mechanized infantry division; Rommel; Trial alert, showing soldiers taking positions and weapons being readied; excerpts from American newsreel showing practice for Atlantic invasion; test firing of German cannon; mechanized units and tanks; film contends that "Jewish regiments" are intended as occupation troops for Berlin. 20 min. Newsreel 715 (17 May 1944): Spring in the zoo of a big German city. At a large postal dispatch center, the benefits of the postal code are demonstrated. Violence in strikes and lockouts in America and England. German miners rest at a resort in the mountains. Storm Troopers shooting practice for citizens, attended by Storm Troopers Chief of Staff Schepmann. Brigadier General von Strachwitz is greeted by the populace of a German city, receives a model of a flak gun produced at an armaments factory, and thanks the factory workers for the weapons they're providing (synchronous sound). French youth rally against "Jewish-plutocratic Bolshevik" enemies; Joseph Darnand speaks to volunteers going to the Eastern Front. Situation conference attended by Rundstedt, Sperrle, Rommel, and others. Rommel speaks to troops at the Atlantic Wall, expressing confidence in their defensive preparations (synchronous sound); artillery exercise sequence highlighting spoken orders (synchronous sound). Withdrawals in the Crimea: German and Rumanian troops on the march, joined by the civilian population; flak fights low-flying Soviet planes - one is hit and pilot bails out; dead horses; heavy flak used in land warfare; Sevastopol left behind in flames; under cover of artificial smoke, ships leave Crimean coast; Soviet planes try to bomb German ships; wounded transferred to hospital ship. The Grossdeutschland Mechanized Infantry Division in defensive action between th Prut and Moldau: ground-attack planes support tanks and infantry; Major General von Manteuffel; the division breaks through into soviet positions, Soviet deserters; enemy artillery strikes; tank fire fight; prisoners, including a riflewoman; Soviet dead; explicit contrast of Soviet and German faces. 19 min.
Volume 71


(MAY/JUNE, 1944): Newsreel 717 (31 May 1944): Mother's Day: Mothers visit children at a "Sending Children to the Country" camp; Styria District Party Director Uberreither awards a Mother's Honor Cross. Professor Moeller, a female oceanographer, takes water samples, then investigates them in a laboratory. In Krems, Austria, the 13th German Gymnastics Championship tournament. A welterweight boxing match between a German and a Dutchman sponsored by the Service for Troop Morale. Food distribution: newspaper ads for special food allotments; grocery store; warehouses and trucks; Reich Minister Backe. Seriously wounded German soldiers, including veterans of the Africa campaign, return from imprisonment in America, arriving in a harbor in Southern France. Shots from a captured American newsreel shows American ships being bombed by Japanese in a New Guinea harbor. In Eastern Rumania, columns of Ukrainians and Rumanians fleeing the soviets meet marching German soldiers and are cared for by the German Red Cross. On the Eastern Front, a day with Highly-decorated pilot Major Rudel, including soccer, calisthenics, breakfast, a briefing, and a dive-bombing sortie. A German police division attacks and captures Soviet partisans in a village. On the Adriatic-Front, a German anti-tank soldier knocks out an enemy tank and an orders conference takes place. German defensive battle in the ruins of Cisterna, south of Rome: artillery, tanks "Green Devils", allied prisoners (including Lieutenant Kohlmann with crews of anti-submarine ships; a sub threatening a German convoy in the Mediterranean is hit by depth charges. 18 min. Newsreel 719 (14 June 1944): This film is totally dedicated to the D-Day invasion. Newspaper headlines say the invasion was begun "on Moscow's order". At night, near the Bay of the Seine, soldiers race into position, flak fires at planes, assault troops fight airborne units. still at night, patrol boats warn of larger ship formations approaching, heavy guns on German sips are in action, and a German speedboat torpedoes a ship. A panoramic shot of the invasion fleet after the day has begun. German coastal batteries and British warships exchange fire. Landing boats come into the mouth of the Ome and are hammered by anti-tank guns, machine guns, and light German reserve units encircle allied airborne troops in a forest: a glider transport hanging from a tree, parachutes in branches, Allied dead and prisoners, downed glider transports, Canadian (including Nova Scotian) prisoners. Flak fires at bombers; planes bomb Caen and refugees leave. more serve units are brought to the front. The SS Division Hitlerjugend in action: German tanks, flak in land battle, knocked-out Allied tanks, Allied wounded and prisoners. Street battles in a small coastal town in the Bayeux area. 16 minutes.
Volume 72


(JUNE, 1944): Newsreel 720 (21 June 1944): Soccer teams from Hamburg and Dresden play for the fifth German Wartime Championship. French Information Minister Henriot speaks to French workers (synchronous sound). Sergeant Apitz tells National Political Training Institute (Napola) pupils how he fought Soviet tanks and infantry as a forward artillery observer (trick photography and synchronous sound). Eastern Front soldiers relax in a newly-built resort town behind the lines, a sauna, barbershop, mess hall, Army store, sports field, and outdoor variety show are shown. On the Italian Front north of Rome, rear-guard units fight Allied spearhead, Allied prisoners, Front, allied commanders confer in headquarters, Lieutenant Commander Hofmann awards Iron Crosses to crewmen of his torpedo-boat flotilla, Lieutenant Commander Rall, coastal batteries fire on Allied ships, wreckage of Allied equipment on beach, flack fires at Allied aircraft, in Caen, buildings are destroyed by Allied bombing and French civilians flee and take refuge in caves, German bunkers undamaged in middle of bomb-cratered field, assault guns and flak in action, a downed Allied transport glider, Allied dead and prisoners, parachutes in trees, members of the SS Division Hitlerjugend are decorated, an infantry flanking maneuver is supported by self-propelled artillery, heavy flak and rocket batteries. 18 min. Newsreel 721 (28 June 1944), Actor Werner Krauss (at home) practices lines for a stage role (synchronous sound). The Marie von Clausewitz Home for war widows studying at Marburg University. Flak auxiliary women on duty in an air-defense battery learn about equipment, later they relax and play games. The Gruenau Rowing Regatta, featuring preliminaries for the 1944 Wartime Championship. The hospital ship Erlangen, after being attacked by Allied bombers, beaches on the West Italian coast and the wounded are taken ashore. On the Eastern Front, General von Greim at infantry advance, Soviet aircraft are shot down by flak, German assault guns and artillery of self-propelled mounts, a burning village is left behind by Soviets. On the Western Front, night-fighters take off, light and heavy flak are used against allied planes, a downed Boeing and its captured crew, shots of Le Havre showing destruction and wounded refugees, soldiers at a forward command post are overjoyed to hear about how the "new weapon" has hit England, SS Brigadier General Witt, said to have since found a "hero's death", Major General Meindl talking with Major von der Heydte, a patrol leader explains a mission. Combat in the hedgerows near Saint-Lo, German tanks, infantry, paratroopers, and mortars, the SS Division Goetz von Berlichingen attacks, knocked-out Allied tanks and anti-tanks guns, intact Allied armament is left behind. German bombers, briefing, hanging bombs on planes, takeoff. A speedboat knows out an allied ship. 21 min.
Volume 73


(JULY, 1944): ca. 32 min. - Newsreel 722 (6 July 1944), General Dietl's funeral, with a eulogy from Hitler, shots of Dietl with troops. Leon Degrelle speaks to Wallonian soldiers and workers in Berlin (synchronous sound, with German translation from narrator). Training at an infantry school, final exercise, Lieutenant Colonel Baerenfaenger speaks to graduates (synchronous sound), infantry song. On the Western Front, coastal batteries fight British-American naval units, Allied wreckage on the coast, knocked-out allied tanks, prisoners, including US paratroopers, Sepp Dietrich at his command post, German tanks, assault guns, and rockets and artillery on self-propelled mounts counterattack in the Bayeux area. 12 min. Newsreel 723 (12 July 1944), The poet Wilhelm von Scholz at home. Four sisters run a sawmill because the men folk have been drafted. Women train horses for the Wehrmacht. In Prague, the 1944 Reich Labor Service Art Show, Reich Labor Leader Hierl and State Minister Frank open the show, paintings and sculptures by Labor Service members depict Labor Service life. In Breslau, Goebbels speaks at a mass rally, predicting great success for the V-1 and urging Germans to remain steadfast (synchronous sound), District Leader Hanke and State Secretary Naumann are present. Finland, weapons and other supplies are brought to Finnish soldiers, a German mountain infantry company travels over a lake, a boy servicing with the Finnish cavalry as a courier, Finnish artillery repulses a Soviet advance. Western Front, reserves roll into the combat zone, front newspapers, marching infantrymen are attacked by enemy planes and flak shoots one down, ravaged French coastal town where a soldier plays the organ in a damaged church, a Waffen-SS forward detachment holds a briefing, tanks and assault guns roll to the front, rockets are brought into position, soldiers pet baby boar, muddy battlefield, A Waffen-SS combat patrol is attacked, then is defended by German light artillery, tanks, infantry, heavy artillery, and rockets in counterattack, assault-gun crew members receive the Iron Cross. 20 min.
Volume 74

(JULY/AUGUST, 1944): Newsreel 725 (26 July 1944): July 20 attempt to assassinate Hitler: damage at Hitler's headquarters; Hitler greets Mussolini at train station a few hours after the attempt and confers with him and Himmler. (Graziani, Goering, and Ribbentrop are present.) Albert Speer speaks at a defense-industry conference and awards medals to industrial leaders Kessler, Fischer, Langenohl, and Lueschen (Hitler is shown). Speer visits a new defense plant. A Panther tank is tested side-by-side with American General Lee tank. Panzerfaust and Panzerschreck tested. Eastern Front: retreating to new defensive lines; artillery on self-propelled mounts and heavy artillery; destroying rails; rear guard leaves town; refugees join retreating Soviet tanks and infantry; knocked-out Soviet tanks; ground-attack planes target Soviet supply lines. Western Front: supply trucks roll to the front; Allied planes bomb Caen; German supplies roll through a burning Caen suburb; infantrymen move into position on the edge of Caen; and paratroopers on the march; Allied artillery attacks a defile; assault artillery counterattacks; Sherman tanks breaking into a village are repulsed with Panzerfaust, Panzerschreck, and V-1 missile flies toward England. 17 min. Newsreel 726 (3 August 1944): Genral Korten's state funeral at Tannenberg memorial; Goering gives eulogy and lays the Fuehrer's wreath. (Doenitz and Keitel are present.) Aftermath of the July 20th attempt to assassinate Hitler: in a hospital, Hitler visits people wounded by the attempt, including Brigadier General Scherff, Rear Admiral von Puttkamer, Lieutenant General Buhle, and others; when Hitler leaves hospital a crowd cheers him. Leading party and military figures congratulate Hitler before their "critical discussions", including Funk, Sauckel, Speer, Saur, Lammers, Himmler, Goering, Goebbels, Bormann, and Generals Schoerner, Guderian, and Jodl; Colonel Remer, who as a Major and Commander of the Berlin Guard Battalion helped crush July 20th "activities inimical to the state", speaks to his soldiers (synchronous sound) and reviews them marching. In the South Hanover-Brunswick District, District Party Director Lauterbacher reviews People's Army (Volkssturm) marching with members of SS, Storm Troopers (SA), Labor Service, and Wehrmacht; he speaks to them. Author Knut Hamsun visits a U-boat crew on their vessel. German withdrawals on the Eastern Front: fresh infantry reserves march to the main battle line; columns of refugees; railways destroyed; militarily-important buildings burned; infantry rear guard protects clearing of a town; at a railroad station behind the lines, heavy weapons arrive; tanks roll to flanking thrust; infantrymen wait in an assembly area; reserves set up prepared positions that are then occupied by infantry; tanks and infantry counterattack. Western Front: Norman farmers drive herds to safety and encounter German intervention reserves; American fighter-bombers attack a French city whose population flees and tries to recover; in Paris, French onlookers harass Allied prisoners being led through the streets; German fighter planes attack supply lines and American vehicles; south of Caen, SS mechanized infantrymen and tanks in action; knocked-out Allied tanks; street fighting. 18 min.
Volume 75

(AUGUST, 1944): Public Service Announcement: A brief vignette set in a restaurant urges the audience to keep quiet about military matters, because the enemy might overhear them talking. 1 min. Newsreel 727 (10 August 1944): In the east, Hitler Youth, Labor Service, and workers (including women) from the Baltic area dig defensive trenches. Eastern Front action between the Baltic and the north Carpathians, including replacements rolling to front, artillery and tank counterattack, SS mechanized infantry and others taking village, SS Major General Gille, and knocked-out Soviet tanks. Western Front activity, including Milice (French Militia) interrogation, German Field Police, French counterfeit money, Allied planes attacking German infantry reserves, Field Marshal Klug, Allied tanks being knocked out by infantrymen and paratroopers, and German tank counterattack. Allied ships that were hit in English Channel. U-boat on combat mission in North Sea (lengthy synchronous-sound sequence). 15 min. Newsreel 729 (24 August 1944): Employment of women in factories, streetcar conducting, police work, and fire brigades. Young Knight's Cross winner visits hometown. Western Front: reconnaissance forces on Brittany country roads; vehicle used to lure Allied fighter-bombers into attacking; flak; wreckage of downed Allied planes; German infantry, assault guns, flak anti-tank guns, armored reconnaissance cars, and tanks in action; knocked-out Allied tanks; first-aid station; Allied prisoner. Putting down the uprising in Warsaw: artillery and tanks; prisoner; street battles; civilian dead; Major General Stahel; flak bombarding observation post; SS units and armor-piercing weapons; civilians "evacuated" from city. Easter Front: SS and tank reconnaissance units close gap in the front; assault guns, tanks, infantry, and riflemen intervene; tiger tanks, bumblebee howitzers, and anti tank guns combat Soviet tanks; ground-attack planes; reinforcements leave homeland for front; train with troops and material for front leaves home district; Tiger and Panther tanks lines up. 13 min. Newsreel 730 (31 August 1944): "Total War" measures in Germany affect newspapers, places of entertainment, women's employment in defense production, streetcar usage, and civilians digging defensive trenches on eastern border. On the Eastern Front, the campaign to capture Tukums and Kemeri to re-establish connection with Courland troops; tanks from East Prussia advance on Soviet barrier in front of Riga; naval task force fires at Soviets on Courland coast; Soviet tanks trying to block breakthrough are countered by flak and Panzerfaust; swastika flag waves over Kemeri. Counteroffensives on other points on the Eastern Front: infantry mounted on assault guns; reconnaissance vehicles; assault guns engage Soviet tanks; burning T-34; Two soldiers are decorated by Brigadier General von Zielhlberg. Western Front: American newsreel shows V-1 and English flak defense; Allied bombers threaten tank troops and are hit by flak: light flak and infantry take a section of forest; light flak prevents formation of Allied bridgehead on river; Allied tanks burning on French country roads. 13 min.
Volume 76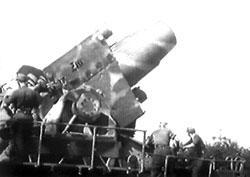 (SEPTEMBER, 1944): Newsreel 731 (7 September 1944): Agriculture: mountain-farmer family working; 70-year-old farmer working his hereditary farm (Erbhof); Reich Labor Service men and women help. Women working to aid war effort: women register for work; members of German Film Ballet work in Berlin defense plant; women do factory work once done only by men; kindergarten at defense plant for working mothers' children. Vice Admiral Heye decorates a lieutenant and one-man-torpedo pilots; Admiral Doenitz adds his congratulations. Western Front: motorized units roll to front; crossing streams on ferries and pontoon bridges; part of reconnaissance unit and assault guns in march through city; street battles in a suburb; assault guns battle Allied tank spearheads. After 300th kill, fighter-pilot ace Lieutenant Hartmann arrives at airfield, where he is congratulated by Lieutenant General Seidemann and decorated by Hitler. On the Narva Front, SS infantrymen set up positions and bunkers and Leon Degrelle confers with SS Lieutenant General Steiner. In Warsaw: giant siege mortars and four-barreled flak; assault guns and tanks attack houses; buildings stormed; protected by smoke shells, infantry moves forward; bombs dropped; rockets. Elsewhere on Eastern Front, ground-attack planes attack Soviet supply lines; exploding tank truck. 12 min. Newsreel 732 (14 September 1944): Youth help the war effort: members of Hitler Youth and League of German girls work in factories; Hitler Youth boys work on farm; on the East Prussian border, General Guderian speaks to Hitler Youth members (Axmann is present); Hitler Youth leaders award decorations honoring war volunteers. Eastern Front: in a city anti-tank guns brought into position and Russian infantry spearheads opposed; rear guard digs in; ground-attack planes fire on Soviet tanks; German combat teams retreat to Capathians; tanks bombard attacking Soviet tanks and infantry positions; close-ups of infantrymen. Soldiers receive Golden Close Combat Clasp from Hitler. One-man-torpedo mission: torpedoes prepared; pilots receive instructions; torpedoes put out to sea at twilight; men on observation ship wait; explosions on horizon show pilots have begun attack; pilots return to beach the next morning. 10 min. Newsreel 734 (28 September 1944): Training at an instructional farm of the Hitler Youth Farm Service. Elderly industrial workers whose children are soldiers or have been killed in the war aid the war effort. Women train to be barbers. The Reich Women's Leadership shows how to make useful articles from corn shucks, straw, and rushes. Young volunteers and middle-aged draftees join the Wehrmacht. Western Front: trucks retreat; Navy ships evacuate soldiers, material, and wounded; pontoon bridge is built and hidden in smoke before Allied air attack; Allied planes attack Belgian city. After "collapse" of Finnish leadership: German troops withdraw from Finland, marching in long columns; Finnish civilians flee Soviets. On the Eastern Front: rockets; Soviet ground-attack planes; infantrymen dig in and fight; in Courland, destroyed Soviet truck (Studebaker), and assault guns, paratroopers, Panzerfaust, and Panzerschreck fight Soviet tanks. 12 min.
Volume 77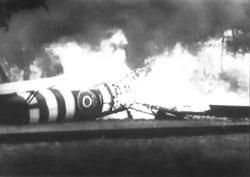 (OCTOBER, 1944): Newsreel 735 (5 October 1944): On Harvest Thanksgiving Day in Berlin, Reich Minister Bracke speaks and awards decorations to colleagues; Goebbels speaks. Admiral Doenitz speaks to workers at a shipbuilding plant in the Weser-Ems District. Solo fighters from the Navy visit a reception in Berlin given by the Reich Youth Leader and show a one-man torpedo to Hitler Youth members (synchronous sound); a one-man-torpedo pilot tells the Hitler Youth how he attacked an English destroyer (synchronous sound). On the Eastern Front, assault-gun brigade clears town in eastern Carpathians. On the Central Italian Front: Allies bombard farmstead; regimental commander at command post; 8.8 cm flak bombards supply lines; engineers blow up bridge and fell trees. Reich Youth Leader Axmann visits the Hitlerjugend SS Tank Division and presents war decorations. The destruction of the First British Airborne Division at Arnheim: flak, other ground weapons, and fighter planes combat British paratroopers, transport planes, and gliders in the sky; a field filled with destroyed English and American transport gliders; Waffen-SS and infantry; motorized two-gliders; parachutes on trees; soldiers investigate British provisions; infantry reserves march to Arnheim; bicycle companies arrive at Arnheim; fighting through forest; prisoners arriving; parachutes hanging. 12 min. Newsreel 736 (12 October 1944): Mines dig trenches and build bunkers in their "free time"; military personnel in the General Government dig trenches. Eastern Front: Estonian civilians flee homeland on German steamers protected by German Navy; Latvians sworn in as Luftwaffe auxiliaries; ground-attack planes (Focke-Wulf 190) in counterattacks; infantrymen advance to attack Soviet bridgehead; men and supplies roll over Courland streets; Soviet tanks (T-34s) knocked out by infantrymen, assault guns, and Panzerfaust; in Warsaw, ground-attack aircraft destroy a block of houses. Western Front; Panther tanks and mounted mechanized infantrymen roll forward near Luneville; mechanized infantrymen advance to clear section of forest; General von Manteuffel; American materiel and prisoners; street fighting in Luneville; Goebbels visits Model's headquarters; Goebbels speaks to defense workers in Cologne (synchronous sound). Columns of King tiger tanks. 13 min. Newsreel 738 (26 October 1944): Rommel's funeral, including von Rundstedt laying Fuehrer's wreath and military procession. Eastern Front: in Finland, retreating soldiers joined by fleeing civilians; in the Grosswardein combat zone, Soviet tank breakthrough combated; tanks move to counterattack; infantry on armored personnel carriers fire machine guns; Rumanians surrender; infantry in cornfield. Western Front: assault guns and infantrymen brought forward; battle in valley; tanks in action on village street; countryside filled with smoke; assault units runs into Allied fire; Panzerfaust in action; knocked-out American tanks. Volkssturm: men and boys register for service; in East Prussia, Himmler speaks before Volkssturm members (synchronous sound); ceremony near memorial on the Annaberg; thousands of Volkssturm members in an eastern city hear the Party Director speak, then march through the city, carrying machine guns, rifle, pistols, and Panzerfaust.
Volume 78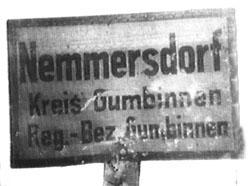 (NOVEMBER, 1944): Newsreel 739 (2 November 1944): Harvesting and processing rowanberries. Admiral Doenitz visits Navy training school, where demolition boat and one-man torpedo are demonstrated; Admiral Heye is present. Western Front: Belfort, Metz, Trier, and Moselle valley; Allied planes attacking town are opposed by flak; German reserves advance; students from Juelich non-commissioned officer's school take over defense of Geilenkirchen. American tanks opposed by Labor Service flak; Sherman tanks are hit by Panzerfaust: American prisoners at Wallendorf, Southeastern Front: in area of Debrecen and Grosswardein, German flak, tanks, assault guns, artillery, and infantry combat Soviet tanks and infantry; Soviet prisoners; destroyed Soviet tanks; German troops welcomed by residents of village in Siebenbuergen formerly occupied by Soviets. German naval artillery intervenes in land battles near Memel, East Prussia: tank battle between Goldap and Gumbinnen; dead civilians in Nemmersdorf said to have been killed by Soviets; ground-attack planes attack Soviet tanks and infantry; aftermath of tank battle near Ebenrode. 13 min. Newsreel 741 (16 November 1944): in Munich, November 9 commemoration at Feldherrnhalle memorial; District Party Director Giessler and Field Marshal Keitel are present. Swearing-in of Volkssturm soldiers on November 9th: in East Prussia, district Party Director Koch administers oath and speaks; in Danzig, District Party Director Forster administers oath after speaking with U-boat Captain Harttman, Storm Trooper Chief of Staff Schepmann speaks, and Volkssturm men march through city; in Berlin, oath administered, Goebbels speaks to men (both sequences in synchronous sound), and men march in review. Western Front: muddy trenches; battle in the Vosges, including infantry, flak tanks, and engineers preparing demolition; corporal receives Knight's Cross from Lieutenant General Feuchtinger. Budapest area: German on the march; residents welcome soldiers; tanks and assault guns; knocked-out barracks area; tanks, assault guns, and infantry; destroyed Soviet light tanks; soviet dead and jewelry said to be found in their pockets. 12 min. Newsreel 742 (23 November 1944): In Vienna, Major Nowotny's funeral, with Reich Party Director von Schirach present and Genera Dessloch speaking; Nowotny being decorated by Hitler. General Vlasov: in Prague Castle, he speaks to first meeting of Committee for the Liberation of Russian Nations (State Minister Frank also speaks); in Berlin, he speaks to eastern workers. Fighting partisans in Slovakia: infantry and anti-tank artillery (pak) in action; houses burning; Waffen-SS advances; captured partisans; residents of a town cheer German. Encircled bases on Atlantic: Allied leaflets; glimpse of daily life; commander; Allied prisoners and knocked-out Allied tanks; prisoner mail; Iron Crosses awarded. Navy frogmen get medical check-up before mission. On night of September 28th, frogmen prepare to blow up a bridge over the Waal near Nijmegen, suiting-up step-by-step, leaving shore, and returning after mission (distant explosion shown). Allied air attack on Western Front: flak fires on Lightning planes attacking town and a plane is hit; German infantrymen; German fighter planes intervene. East Prussia: infantry and assault guns repel Soviet tank attack; destroyed Soviet tanks; infantry and artillery counterattack; rockets. 12 min.
Volume 79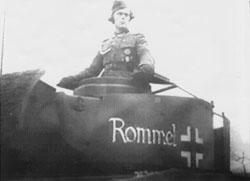 (DECEMBER, 1944): Newsreel 744 (7 December, 1944): Railroad workers: training apprentice engineers in locomotive construction and operation; woman as stationmaster, Grossdeutschland guard regiment musters in Berlin; Goebbels becomes honorary commander and speaks; Brigadier General Lorenz gives Goebbels Grossdeutschland sleeve band. Captain Schnaufer after receiving Diamonds decoration for victories as night-fighter pilot. Lieutenant Brandi, a submariner. German Light and Heavy Cruisers in Courland Lagoon; Germans Fight French Units in Vosges Mountains; Defensive Battles in the Balkans; Hungary's Head of State Szálasy Visits Hitler; Blown-up Waal River Dams Near Arnhem; Himmler Decorates Waffen-SS Soldiers; Defensive Battles on the Western Front.
Click on the links below to view descriptions of other films from the series
"Through Enemy Eyes"

How else may I place an order?
Click on the envelope below to send e-mail
to the German Language Video Center!

Not responsible for typographical errors.
Video run times are approximate.
Prices and availability subject to change without notice.
Send comments regarding contents of this page to
glvc@indy.net





Member VSDA since 1985.

Last modified: Wednesday, July 20, 2022 6:10 PM
German Language Video Center© 1997/2016
Entire Website copyrighted 1997, 1998, 1999, 2000, 2001, 2002, 2003, 2004, 2005. 2006, 2007, 2008, 2009, 2010, 2011, 2012, 2013, 2014, 2015, 2016
No reproduction or download allowed for commercial purposes without written permission.

GLVC 2016©.