The place where our customers send their friends!
Welcome to the Only American Video Tape Store for rare German Movies and Old ZDF volksmusik shows.
Please note: All video tapes are in the American NTSC VHS video format
and will play on all VCR's in North America. We are closing out all of our VHS inventory. This will be your last chance to obtain these beautiful ZDF music videos and hundreds of classic German movies and heimatfilme. Due to the limited demand in the USA, most of these movies will unfortunately never be available on DVD in America.
Once our videos are gone, they're gone!!!
We have drastically reduced the prices on over 2000 video titles closeout. Make sure to buy these classics while supply lasts.
On all VHS clouseout prices we will send you a new or previously viewed tape.
CLOSEOUT!!!!!
HUNDREDS OF PRICES REDUCED!!!
BUY NOW!!!
2015 Christmastime Special!!
Any 10 videos for only $49.95 plus $18 s/h
while supplies last
Classic and other German Movies on Video from U - V
All in German Language - No Subtitles
Here are some of our extensive listings of beautiful and classic German
films from the last 70 years. Prices listed are the retail prices.
Remember all videos are in the American NTSC-System
and in German language only.
Please note: most of our old classic video titles starting with
Order # IH, HF, CH or EVD will be discontinued; and will be no longer
be available for sale in the US once our limited inventory is depleted. We are not able to reorder any of those films.
Order now while they are still available. Some films might be still listed even though they are not any longer available.
Happy Video Suprise Box
Order a Grab Bag of at least 10 assorted VHS videos of our wonderful German Classic Films
Only $49.95 plus $18 shipping
U
U-47 Kapitaenleutnant Prien #KR 1047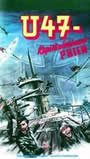 1958, b/w, ca 92 min. - The adventurous, tragic life of the German navy officer Guenther Prien, who at the outset of World War II became famous for his dare-devil entrance into the bay of Scapa Flow and sinking two British battleships. With Joachim Fuchsberger, Harald Juhnke, Olga Tschechowa and Dieter Borsche.
Order # KR 1047

was $14.95
Ungekuesst soll man nicht schlafen geh'n #EVD 1231
1936, b/w, ca. 87 min. - Liane Haid, Heinz Ruehmann, Iwan Petrovich, Susi Lanner, Hans Moser, Annie Rosar. Es handelt sich um eine Verwechslungskomoedie. Der Star Edda Vivian gestattet bei einer Wohltaetigkeitsveranstaltung einen Kusswettbewerb; ein Student alter Sprachen bekommt den Zuschlag, hat aber eine ganz andere Suesse im Visier; schliesslich rettet ein Gentleman die prekaere Situation und auch die vielfaeltigen Verwechslungen nehmen ein Ende.
Order # EVD 1231

was $39.95
Unheimliche Begegnung in der Tiefe #JUV 3165
Fantasy movie, ca. 80 min., color - Within a short time dozens of ships are lost in mysterious ways in the ocean. The legend says that people are living in the deep of the ocean. Find out what really happened!
Innerhalb kuerzester Zeit verschwinden Schiffe auf mysterioese Weise im Meer. Die Ungluecke haeufen sich. Als die Tochter des Millionaers Miles ebenfalls waehrend eines Seeurlaubs Richtung Nassau verschwindet, wendet sich Mary's Vater an den bekannten Meeresbiologen und -forscher Professor Peters. Er begibt sich mit seiner Mannschaft auf die Suche. Waehrend der Fahrt erzaehlt einer seiner Leute von der Legende unmenschlicher Wesen, die auf dem Meeresgrund leben. Mit Entsetzen muss das gesamte Forschungsteam festellen das es sich gar nicht um eine Legende handelt.
Order # JUV 3165

was

$19.95
Unheimliche Geschichten (Weird Tales) CH 667
1932, ca. 85 min., b&w - A reporter faces many dangers as he pursues a mad inventor who has murdered his wife. Based on stories by Edgar Allan Poe and Robert Louis Stevenson, this is a remake of the director's 1919 film of the same name. Directed by Richard Oswald; featuring Paul Wegener, Maria Koppenhoefer, and Blandine Ebinger.
**No Longer Available**
Urlaub auf Ehrenwort (Leave on Word of Honor) #IH 483
1937, b&w, ca. 87 min. - During World War 1, soldiers on the way to the front are given a six-hour leave in Berlin from which they promise to return. The film shows why they all decide to keep their word. Directed by Karl Ritter; featuring Ingeborg Theek, Rolf Moebius, and Fritz Kampers. Discontinued. Out of print.
Unser Wunderland bei Nacht #KR 538
Unterhaltung, 1959, ca. 99 min., b&w - This fast paced video will open the world of night life and atmosphere of Hamburg, Munich, and Duesseldorf. See for yourself what was hip in the good old days of the late 50's. Directed by Juergen Roland, Reinhard Elsner, Hans Heinrich. Featuring Paul Esser, Thomas Holtmann, Hilde Sessak u.v.a. Hamburg - als das Tor zur Welt spiegelt sich in seiner Atmosphaere altbewaerter hanseatischer Kaufmannsgeist und konservativ Tradition wider. Muenchen - ist bezeichnend fuer die Unrast ueberbeschaeftigter Elternpaare. Duesseldorf - war vor dem Kriege und ist heute wieder pulsierende Metropole der Herrschaftsschicht inmitten des reichen rheinischen Kohlebeckens.
Unsere Fraeulein Doktor #EVD 1224
1940, b/w - Jenny Jugo, Albert Matterstook, Heinz Salfner, Josefine Dora. Der Film bietet zwei koestliche Stunden voll Humor. Es ist ein Genuss ihn zu sehen. Keine Klamaukgeschichte, kein billiges, derbes Lustspiel, sondern eine Filmkomoedie.
Order # EVD 1224

was $39.95
Unter Tausend Laternen: die Stimme des Anderen #FD 20049
1951, b/w, drama, ca. 88 min. - Der Komponist Fred Apel wird ermordet. Elisa, eine junge Saengerin, die ihn liebte, befuerchtet nun, dass seine letzte Komposition unvollendet bleibt. Zum Glueck taucht jedoch der junge auslaendische Instrumentator Michael auf und kann, nachdem er zunaechst unter Mordverdacht geraet, die Komposition zu Ende fuehren. Darueber hinaus entpuppt er sich als wahrer Komponist aller Melodien Apels und gewinnt schliesslich auch die Gunst Elisas. Discontinued. Out of print.
Alle Videofilme auf dieser Seite sind in deutscher Sprache ohne Untertitel.
Das Unsterbliche Herz #CH 559
1939, b&w, ca. 87 min. - In this lavish biographical drama set in 16th-century Nuremberg, Peter Henlein invents the spring-driven watch to aid marine navigation, though he must overcome a deadly bullet wound, marital conflict, and social opposition to do it. Directed by Veit Harlan; featuring Heinrich George, Kristina Soederbaum, and Paul Henckels.  
Order #

CH 559

was

$29.95
Der Untertan #CH 680
1951, ca. 90 min., b&w - In Wilhelmine Germany, a bourgeois man becomes an industrialist and minor politician by groveling before those above him and trampling those underneath. The director made this highly praised satire, based on the book by Heinrich Mann, to show the authoritarianism and chauvinism which he believed led the Germans into Hitler's arms. Directed by Wolfgang Staudte; featuring Werner Peters, Renate Fischer & Sabine Thalbach.
Order # CH 680

was

$29.95
Unsterblicher Walzer #EVD 1091
1939, b&w, ca. 90 min. - Einen Lebensbericht ueber den Aufstieg und das Schicksal der Familie des Walzerkoenig Johann Strauss bringt dieser Film, zugleich auch eine Schilderung der musikalischen Atomosphaere Wiens im vorigen Jahrhundert. Mit Paul Hoerbiger, Friedl Czepa, Maria Andergast, Dagny Servaes. Discontinued. Out of print.
Unter Palmen am blauen Meer #CAN 136
ca. 89 min. - Die italienische Riviera lockt mit azurblauem Meer, wolkenlosem Himml und unbeschwertem Strandleben. Ein Traumurlaub beginnt fuer die fuenf jungen Musiker einer schwaebinger Jazzband, die sich ihren Aufenthalt unter suedlicher Sonne mit Gastspielen in einer Lido-Bar verdienen. Unerfreulich wird es erst, als sich die Musiker mit einer millionenschweren und streitlustigen Graefin anlegen, die Musik fuer einen Fluch der Menschheit haelt. Die despotische Dame torpediert nicht nur die Auftritte der Band, sondern schiebt auch dem Liebesleben ihrer Nicht einen Riegel vor. Mit Bibi Johns, Harald Juhnke, Lil Dagover, Charles Regnier, Helmut Zacharias, G. Rubini, Teddy Reno.
Der Untergang des roemischen Reiches #JUV 3330
ca. 161 min. - Mit Sophia Loren, Alex Guinness and James Mason. Der Untergang des roemischen Reiches unter dem grausamen und lebenshungrigen Kaiser Commodus ist Stoff dieses gewaltigen Hollywoodfilms. Im zweiten Jahrhundert nach Christi herrscht Marc Aurel ueber das maechtige roemische Reich. Da er seinen Sohn Commodus nicht als seinen Nachfolger benennen will, setzt er Tribun Livius Gaius Metellus als seinen Erben ein. Livius liebt Aurels Tochter Lucilla. Gegen ihren Willen muss sie sich mit dem Koenig von Armenien vermaehlen. Nach einem Attentat auf Marc Aurel wird Commodus Kaiser von Rom. Durch seinen schwachen, vergnuegungssuechtigen Charakter fuehrt er das Roemische Reich ins Chaos, sein Fall ist unaufhaltsam. Als Commodus nach einem dramatischen Kampf gegen Livius stirbt, lehnt Livius die Krone ab und verlaesst die Stadt. Discontinued. Out of print.
Der Untergang des Leopardenreiches #TP 621
Adventure, ca 80 min. - The evil queen of the underworld kidnaps Princess Jhana so she can have Prince Akim all to herself.
Fuerst Akim laesst einen Tempel errichten, um seine Hochzeit mit Prinzessin Jhana wuerdig begehen zu koennen. Taliade, die Koenigin des Unterirdischen Reiches will Akim fuer sich gewinnen und laesst Jhana rauben. Zusammen mit seinen treuen Freunden dringt Akim in das Reich Taliades ein. Fast geraten sie durch die List der boesen Herrscherin des Leopardenreiches in deren Abhaengigkeit, doch durch einen Zaubertrank und die Hilfe der Dienerin Nice bringen sie den Leopardenmenschen eine furchtbare Niederlage bei, befreien ihre Sklaven und ueberlassen Taliade der verdienten Strafe. Akim und seine Gefaehrten koennen sich in Sicherheit bringen und in ihr gewohntes Leben zurueckkehren. Recommended over 12 yrs.
Order # TP 621

was

$19.95
V
Vampyr #EVD 1102
1932, ca. 90 min. - Die seltsame Geschiche des Allen Gray. Mit Julian West, Maurice Schutz, Rena Mandel.
Order # EVD 1102


was $39.95
Vater, Mutter und 9 Kinder #FD 20028
b/w, ca. 90 min. - With Heinz Erhardt, Willy Millowitsch. This humorous film portrays the ups and downs in the day-to-day life of a large German middle-class family back in the "good old days" of the Fifties! Sie sind eine glueckliche Familie, die Schillers in Einbeck im Hannoverschen. Vater, Mutter und neun Kinder bevoelkern das alte spitzgiebelige Fachwerkhaus am Marktplatz. Das es dabei lustig hergeht versteht sich von selbst. Discontinued. Out of print.
Please note: we are drastically reducing our video library. If there is a special movie you are interested in you may want to purchase or rent it now before the very last tape is sold and no longer available in USA.
Verraeter (Traitors) #IH 465
1936, b&w, ca. 92 min. - In this film, which was highly praised by the nazi government, foreign spies infiltrate a German metal works and airplane factory, but are finally foiled by a soldier's honesty. Directed by Karl Ritter; featuring Willy Birgel, Lida Baarova, and Irene von Meyendorff.
Der Verlorene(1943), mit Peter Lorre #EVD 1250
Tragoedie, b/w - Peter Lorre. Dr. Rothe forscht im Dienst der Deutschen. Als Resultate an die Englaender geraten fliegt seine Verlobte Inge als Spionin auf. Damit sie nicht den Nazis in die Haende faellt, toetet Rothe sie. Discontinued. Out of print.
Der verlorene Sohn, mit Luis Trenker (The Prodigal Son) #RP 2003 OR IH 355
1934, ca. 83 min. color and b/w - Three old friends meet and reminisce between clips from "Verlorene Sohn" and "Kaiser von Kalifornien. Der langjaehrige, treue Begleiter Trenkers, Hans Jamnig (genannt Tschaems), parodiert den Altmeister. Vor ueber 50 Jahren hatten beide in dem beruehmten Film Der verlorene Sohn die Tochter eines reichen Amerikaners im Winter auf einen noch unerstiegenen Dreitausender gefuehrt. Der "Leichtsinn" kostete Tschaems im Film das Leben und verschlug Luis als "Tonio Feuersinger" nach Amerika. Zwischen Ausschnitten aus dem Verlorenen Sohn und dem Kaiser von Kalifornien berichtet Trenker ueber seine Erlebnisse. German language - no subtitles.
1934, b&w, ca. 83 min. - Luis Trenker wrote, directed, and stars in this story of a Tyrolean mountain guide who lives in poverty and luxury in depression era new York, but returns to his homeland at the end. This film was partially shot in the United States. costarring Maria Andergast and Marian Marsh.
Order # RP 2003




or # IH 355
Versprich mir nichts #HF 526
1937, b&w, ca. 99 min. - In this highly-praised comedy, a young woman sells her artist husband's paintings as if they were her own creations because he refuses to part with them. Directed by Wolfgang Liebeneiner; featuring Luise Ullrich, Viktor de Kowa, and Heinrich George. 
Verspaetung in Marienborn #KR 539
Thriller, 1963, ca. 105 min., b&w - A young German from East Germany tries to escape on an American troop train. At the border station Marienborn the Russians demand the return of the escapee. A tense drama of the cold war era. Director: Rudolf Haedrich. Featuring: Jose Ferrer, Sean Flynn, H. J. Schmiedel.  Ein junger Deutscher versucht die Flucht aus der Zone. Er springt auf einen amerikanischen Militaerzug, der von Berlin nach Westdeutschland faehrt. An der Grenzstation Marienborn verlangen die russischen Wachhabenden die Auslieferung des Fluechtlings. Nur eine kurze Spanne Zeit bleibt dem Geflohenen das Gefuehl frei zu sein. Nach dramatischen Verhandlungen muss er den Sowjets uebergeben werden. Er stand allein gegen ein Besatzungsstatut. A classic coldwar drama.
Volkswagen Comedies - Fuenf Volkswagen Comedies.
Erinnern Sie sich an "The Love Bug?"
Now you can enjoy the adventures, tricks,
and excitement of the "Wunderkaefer" Dudu.
See the original German Kinofilm hits now on video in the USA. All in color.
Von Liebe reden wir spaeter #KR 540
Comedy, 1953, ca. 100 min., b&w - "About love we talk later" is also a melody of the fifties that weaves all through this charming movie. Two mature people and their everyday problems - a love story full of intrigue and a happy ending. Director: Karl Anton. Featuring: Liselotte Pulver, Willy Fritsch, Gustaf Froehlich. Der Schriftsteller Jonny Pitter schnappt nach Luft, kommt da eine bildhuebsche junge Dame in seine Wohnung, nennt sich Angela Bell und bittet ihn um seine Hand. Was der Schriftsteller Jonny hier am eigenen Leibe erlebt, ist so ueberraschend und so amuesant, dass er sich eingestehen muss, dass das Leben doch bessere Romane schreibt als er.
Verwehte Spuren HF 523
1938, b&w, ca. 81 min. - In this popular film, a young Canadian woman's mother vanishes mysteriously while the two of them are in Paris to visit the 1867 World exposition. Directed by Veit Harlan; featuring Kristina Soederbaum, Fritz van Dongen, and Friedrich Kayssler.
**no longer available**
Verklungene Melodie #CH 525
1938, b&w, ca. 94 min. - A budding actress and an industrialist meet after their plane is forced to land in Africa, and their love ebbs and flows for years afterward in Berlin and New York. Directed by Viktor Tourjansky; featuring Brigitte Horney, Willy Birgel , and Carl Raddatz.
Order # CH 525

was

$29.95
Die verpfuschte Hochzeitsnacht #CAN 40
ca. 87 min. - black/white Grethe Weiser mit ihrer unverwechselbaren Berliner Mundart in einer Rolle, die ihr auf den Leib geschrieben ist: als Schwiegermutter. Natuerlich billigt die nicht die Hochzeit ihrer einzigen Tochter und versucht mit List und Tuecke die Ehe auseinanderzutreiben. Herrliche Komoedie und auch Grete findet ihr ueberraschendes Glueck. Mit Claus Biederstaedt, Doris Kirchner, Dietmar Schoenherr, Rudolf Vogel und Renate Ewert.
Viktor und Viktoria #EVD 1208
1933, Musical Comedy, ca. 90 min. - Eine Glanzrolle fuer Renate Mueller als befrackte Garconne mit der schwierigen Aufgabe: Mann sein nach aussen, echtes Weib nach innen. Lachen ist viel, Humor noch mehr - humorvolle Grazie ist alles. Mit Renate Mueller, Hermann Thimig, Adolf Wohlbrueck, Hilde Hildebrand, Fritz Odemar.
Order # EVD 1208


was $39.95
Vorstadvariete #EVD 1070
1935, b.w, ca. 90 min. - Mizzi und Josef wollen heiraten Bevor Josef zum Militaer eingezogen wird, schickt er Mizzi auf's Land zu seinen Eltern. Sie soll nicht weiter im Variete auftreten. Josef fuerchtet, sie wuerde von diesem Milieu verdorben. Dennoch tritt Mizzi dort auf. Mit Luise Ullrich, Mathias Wiemann. Discontinued. Out of print.

ok 11/12


Alle Videofilme auf dieser Seite sind in deutscher Sprache ohne Untertitel.
For hundreds more exciting and stimulating German movies
of the last 60 years, click on the letters below.

30 Day Rental Rates
Rental charges for a 30 day period. Shipping time is included in this period.

1 Tape

$10.50

5 Tapes

$34.50

2 Tapes

$17.00

6 Tapes

$41.00

3 Tapes

$23.00

7 Tapes

$47.25

4 Tapes

$28.50

8 Tapes

$52.80
The shipping charges to you are included in our low, low rental fees above. You are responsible for paying the return shipping. We ship via UPS and most orders are processed and leave our store the same day they are received. We also include an order form on which to place your next order if you so desire. There is aboslutely no obligation to rent more videos. The shipping container is usually suitable for use to return your tapes to us. We even enclose a mailing label with our address and your return address which may be placed on the container when you return your tapes. What could be easier?
We also rent videos to schools.
Schools may use the rates listed above if order is secured with a charge card.
If invoicing is required, the charge is $25.00 per tape.
Alle unsere Videotapes, nicht nur 'Rental only' konnen Sie fuer 30 Tage leihen.
Anruf genuegt: 1-800-252-1957 EST.
How else may I place an order?
Click on the envelope below to send e-mail
to the German Language Video Center!

Not responsible for typographical errors.
Video run times are approximate.
Prices and availability subject to change without notice.
Send comments regarding contents of this page to
glvc@indy.net





Member VSDA since 1985.

Last modified: Friday, November 6, 2015 1:02 PM
German Language Video Center© 1997/2015
Entire Website copyrighted 1997, 1998, 1999, 2000, 2001, 2002, 2003, 2004, 2005. 2006, 2007, 2008, 2009, 2010, 2011, 2012, 2013, 2014, 2015
No reproduction or download allowed for commercial purposes without written permission.

GLVC 2015©.